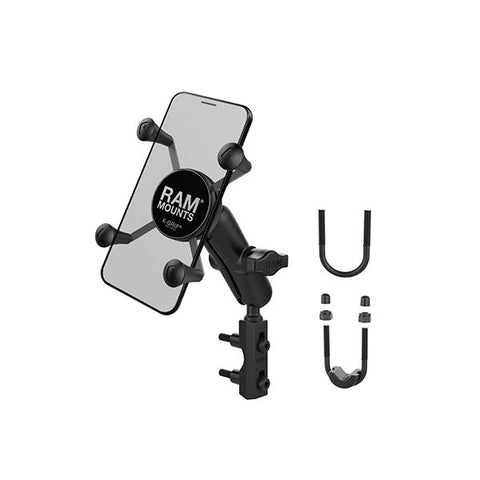 RAM® X-Grip® Phone Mount with Motorcycle Brake/Clutch Reservoir Base (RAM-B-174-UN7U)
The RAM-B-174-UN7U consists of hardware for mounting to either brake/clutch reservoirs and rails that are 0.5" to 1.25" in diameter, double socket arm and universal X-Grip® cell phone cradle. Designed into the mount is a 1" diameter patented rubber ball and socket system with adjustment points at both ends of the socket arm; this with a twist of the arm knob, allows you to move the X-Grip® mount to your optimum viewing position.
The mounting hardware for brake/clutch reservoirs include both standard and metric mounting bolts. The included X-Grip® cradle has a clean and clever four leg design that sports great holding power without hiding your phone behind foam pads and plastic. The spring loaded X-Grip® cradle expands and contracts, allowing for a perfect custom fit of your cell phone. The perfect complement to the modern sleek interior of today's vehicles, the RAM X-Grip® is the cell phone cradle evolved. The X-Grip® includes a device tether recommended for outdoor applications. The cradle is compatible with handheld devices that will fit the dimensions listed below. It is important to verify the dimensions of your handheld device with a case/sleeve/skin when determining the overall size.

Compatible Devices
:
Apple: iPhone 6s, iPhone 7, iPhone 8, iPhone SE (2nd Generation), iPhone X, iPhone Xs, iPhone Xr, iPhone 11, iPhone 11 Pro
Blackberry: DTEK 50, DTEK 60, KEYone
Garmin: Approach G8, Edge 1030, Edge Explore 1000
Google: Pixel, Pixel XL, Pixel 2, Pixel 3, Pixel 3a, Pixel 4, Pixel 4 XL
HTC: U11, U11 life
Huawei: Mate 20 Pro, P30 Pro
LG: Aristo, Aristo 2, Exalt LTE, G5, G5 Silver, G6, G6+, G7 ThinQ, G8 ThinQ, Grace LTE, K20, K20 Plus, K20 V, K3, K3 2017, K8 2017, Phoenix 3, Q6, Rebel 2 LTE, Rebel 3 LTE, Risio 2, Tribute Dynasty, Tribute HD , V30, V35 ThinQ, V40 ThinQ, Wine LTE, Zone 4
Motorola: moto e4, moto g5s plus, moto g6, moto g7 power, moto X2, moto X4
Nokia: 1, 2, 3, 5, 6, 8, 9 PureView, 216, 230, 150 Dual SIM, 3310 Dual SIM, 7 plus, 8 Sirocco, 8110 4G
OnePlus: 6T, 7, 7T, 7T Pro, 7 Pro
Panasonic: Eluga X1 Pro
Samsung: Galaxy A3, Galaxy A3 (2016), Galaxy A3 (2017), Galaxy A5, Galaxy A5 (2016), Galaxy A5 (2017), Galaxy A6, Galaxy A6+, Galaxy A7 (2016), Galaxy A8+, Galaxy A8 (2018), Galaxy A8+ (2018), Galaxy A10, Galaxy A10e, Galaxy A10s, Galaxy A20, Galaxy A20e, Galaxy A30, Galaxy A40, Galaxy A50, Galaxy A50s, Galaxy AMP 2, Galaxy AMP Prime, Galaxy AMP Prime 2, Galaxy C5, Galaxy E5, Galaxy Express 3, Galaxy Express Prime 2, Galaxy Grand Max, Galaxy J1, Galaxy J1 (2016), Galaxy J2, Galaxy J2 (2016), Galaxy J2 (2017), Galaxy J3 (2016), Galaxy J3 (2017) International, Galaxy J3 Emerge, Galaxy J3 Prime, Galaxy J3 V, Galaxy J5, Galaxy J5 (2016), Galaxy J5 (2017), Galaxy J7 (2016), Galaxy J7 (2017), Galaxy J7 Perx, Galaxy J7 Prime, Galaxy J7 Prime 2, Galaxy Luna, Galaxy Note 8, Galaxy Note Fan Edition, Galaxy Note 10, Galaxy On NXT, Galaxy On5, Galaxy On7 Prime, Galaxy On8, Galaxy S5, Galaxy S5 Neo, Galaxy S6, Galaxy S6 Active, Galaxy S6 Edge, Galaxy S6 Edge+, Galaxy S7, Galaxy S7 Active, Galaxy S7 Edge, Galaxy S8+, Galaxy S9, Galaxy S9+, Galaxy S10, Galaxy S10+, Galaxy S10e

, Samsung Galaxy S20, Samsung Galaxy S20+, Samsung Galaxy S20 Ultra 5G

, Galaxy V Plus, Galaxy Xcover 3, Galaxy Xcover 4, W2017, Z1, Z2, Z3, Z4
Sony: Xperia L1, Xperia X, Xperia X Compact, Xperia X Performance, Xperia XA, Xperia XA1, Xperia XA1 Plus, Xperia XA2, Xperia XZ, Xperia XZ1, Xperia XZ1 Compact, Xperia XZ2, Xperia XZ2 Compact, Xperia XZ3, Xperia XZs, Xperia Z3, Xperia Z3+, Xperia Z5, Xperia Z5 Compact
Xiaomi: Mi 9, Mi 9 Explorer, Mi Mix 2S, Mi Mix 3
ZTE: Axon 9 Pro, Axon 10 Pro
Specs & Features
Hardware Included: (1) Optional Tether , (1) Glue Tube for Rubber Caps , (2) M6 x 55mm Hex Bolts , (2) #1/4-20 x 2" Hex Bolts , (2) 1/4"-20 x 2.5" Hex Bolts , (2) 1/2" Spacers , (2) 1/4" Split Lock Washers , (1) 1/4"-20 x 1.75" U-Bolt , (1) 1/4"-20 x 2.5" U-Bolt , (2) 1/4"-20 Nylock Nuts , (2) Rubber Caps , (1) U-Bolt Spacer
Holder Dimensions: Width Range: 1.875" - 3.25", Depth Range: .875" max
Clamp Range: .5" - 1.25" diameter
Socket-to-Socket Length: 3"
Ball/Socket Size: B Size (1")
Weight Capacity: 2 lbs
Weight: 0.9 lbs.
Materials: Marine-grade aluminum, High strength composite, Stainless steel
Package Contents
1 x RAM-B-309-7U
1 x RAM-HOL-UN7BU
1 x RAM-B-201U