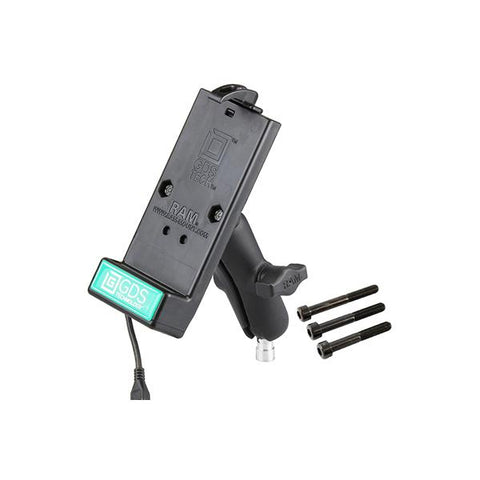 GDS® Universal Phone Dock with Motorcycle Handlebar Clamp Mount (RAM-B-186-GDS-DOCK-V1U)
The RAM-B-186-GDS-DOCK-V1U consists of a motorcycle handlebar clamp base with M8 threads, double socket arm and the RAM® Universal Vehicle Phone Dock with GDS® Technology. This mount will replace one of the M8 bolt heads on your handlebar clamp system, positioning your device clean in the center.
The mount is designed with a RAM 1" diameter patented rubber ball and socket system that has adjustment points at both ends of the double socket arm; this allowing for almost infinite adjustment and perfect viewing angles. The vehicle dock is a spring loaded, quick release cradle that offers a secure fit with easy access to the mounted phone or phablet; compatible with any phone or phablet wrapped in IntelliSkin®. The integrated GDS Technology platform enables charging of the mounted device and safely secures the phone in a variety of vibration application. Without the need to remove the IntelliSkin® from the device, the user can quickly and efficiently mount the device in the vehicle dock and keep the device charged.
Specs & Features
Hardware Included: Assembly Hardware , (1) M8 x 55mm Socket Head Cap Screw , (1) M8 x 60mm Socket Head Cap Screw , (1) M8 x 65mm Socket Head Cap Screw
Socket-to-Socket Length: 3"
Ball/Socket Size: B Size (1")
Weight Capacity: 2 lbs
Materials: Marine-grade aluminum, High strength composite
Package Content
1 x RAM-B-367U
1 x RAM-B-238U
1 x RAM-B-201U
1 x RAM-GDS-DOCK-V1U
---
We Also Recommend