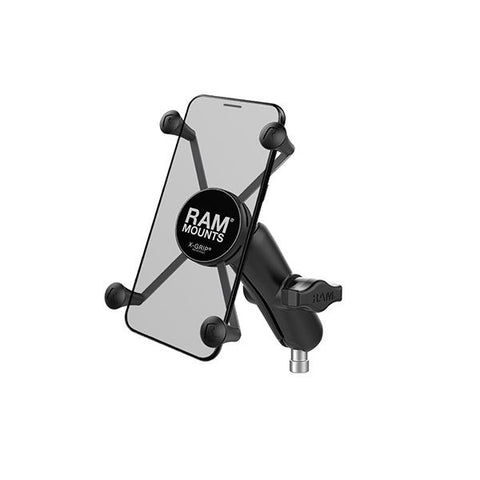 RAM® X-Grip® Large Phone Mount with Motorcycle Handlebar Clamp Base (RAM-B-367-UN10U)
The RAM-B-367-UN10U consists of a motorcycle handlebar clamp base with M8 threads, double socket arm and universal X-Grip® cradle. This mount will replace one of the M8 bolt heads on your handlebar clamp system, positioning your device clean in the center.
The mount is designed with a RAM B size 1" diameter patented rubber ball and socket system that has adjustment points at both ends of the double socket arm; this allowing for almost infinite adjustment and perfect viewing angles. The spring loaded X-Grip® IV cradle expands and contracts, allowing for a perfect custom fit of your phone or phablet. The X-Grip® includes a device tether recommended for outdoor applications. The cradle is compatible with handheld devices that will fit the dimensions listed below. It is important to verify the dimensions of your handheld device with a case/sleeve/skin when determining the overall size.

Compatible Devices
:
Apple: iPhone 6s Plus, iPhone 7 Plus, iPhone 8 Plus, iPhone Xs Max, iPhone 11 Pro Max
Blackberry: Evolve X
Garmin: Drive 50, Drive 51 LM, Drive 52, Drive 61 LM, DriveSmart 51 LMT-S, DriveSmart 61 LMT-S, DriveTrack 71, Nuvi 2788LM, RV 660LMT, RV 770 LMT-S
Google: Pixel 2 XL, Pixel 3 XL, Pixel 3a XL
HTC: Bolt, U Ultra
Huawei: Mate 20 X
LG: Fiesta 2 LTE, Fiesta LTE, G8S ThinQ, Harmony, Stylo 2 V, Stylo 3, Stylo 3 Plus Titan, Stylo 4, V20, V50 ThinQ, X charge, X venture
Magellan: TR5, TR7
Motorola: moto e4 plus, moto g4, moto z2, moto z2 play, moto z3
Rand: McNally Road Explorer 5, McNally TND 540
Razer: Phone 2
Samsung: Galaxy A7, Galaxy A7 (2017), Galaxy A7 (2018), Galaxy A8, Galaxy A8 (2016), Galaxy A9 (2016), Galaxy A9 Pro (2016), Galaxy A9 (2018), Galaxy A70, Galaxy A80, Galaxy A90 5G, Galaxy C7, Galaxy C7 Pro, Galaxy C9 Pro, Galaxy E7, Galaxy Grand Neo Plus, Galaxy J7, Galaxy J7 Max, Galaxy J7 V, Galaxy Note 5, Galaxy Note 10 Plus, Galaxy On7, Galaxy S10 5G, Galaxy S8, Galaxy S8 Active
Sony: Xperia C4, Xperia L2, Xperia XA Ultra, Xperia XA1 Ultra, Xperia XA2 Ultra, Xperia XZ Premium
Specs & Features
Hardware Included:
(1) Optional Tether
(1) Glue Tube for Rubber Caps
(1) M8 x 55mm Socket Head Cap Screw
(1) M8 x 60mm Socket Head Cap Screw
(1) M8 x 65mm Socket Head Cap Screw
Holder Dimensions: Width Range: 1.75" - 4.5", Depth Range: .875" max
Socket-to-Socket Length: 3"
Ball/Socket Size: B Size (1")
Weight Capacity: 2 lbs
Weight: 0.75 lbs.
Materials: Marine-grade aluminum, High strength composite, Stainless steel
Package Contents
1 x RAM-HOL-UN10BU
1 x RAM-B-367U
1 x RAM-B-201U