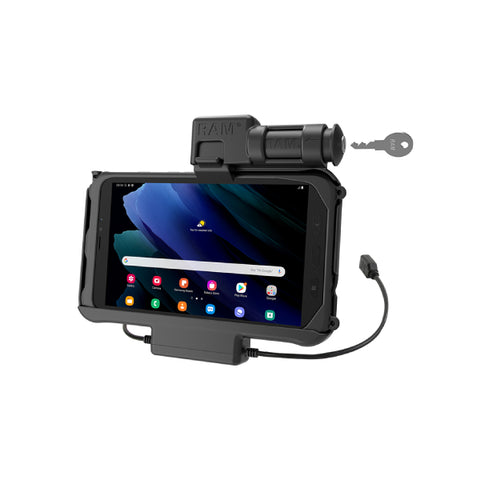 RAM® Key Locking Power + Data Dock for Samsung Tab Active3 & Tab Active2 (RAM-HOL-SAM58PDKLU)
This key locking RAM® EZ-Roll'r™ power cradle for the Samsung Tab Active3 and Tab Active2 has been designed to meet the demands of field workers in a variety of applications including transportation, field sales, logistics, manufacturing, and much more. Power and data sync capabilities are provided to the device through GDS® pogo pins while taking advantage of this cradle's USB-A port for an additional peripheral making this the ideal, compact mounting solution for your mobile workstation.
Access to the stylus remains while the device is docked. Included is a set of four nuts and bolts to connect the cradle to any B or C size RAM® components containing the universal 4-hole AMPS pattern. This cradle also contains space in the back allowing for a GDS® Hand-Stand™ attachment so you can easily take your Tab Active3 or Tab Active2 from your vehicle, to your person, to your desk with zero hassle.
Powered cradle featuring keyed lock for the Samsung Galaxy Tab Active3 and Tab Active2
RAM® Mounts Compatible™ with AMPS hole pattern components

Made of high-strength composite materials for durability and reliability in the most demanding environments

Features & Specs:
Product Width: 9.25"
Product Height: 7.75"

Product Depth: 3"

4-Hole AMPS: 1.181" x 1.496"

High strength composite

Warranty Status: 3 year warranty

Mount using a round ball base (RAM-202U recommended)

Device speakers and mics exposed

Device headphone jack exposed

NFC reader accessible while in dock

mUSB female pigtail for power

Package Content:
Contains 1 x RAM® Key Locking Power + Data Dock for Samsung Tab Active3 & Tab Active2 (RAM-HOL-SAM58PDKLU)
---
We Also Recommend